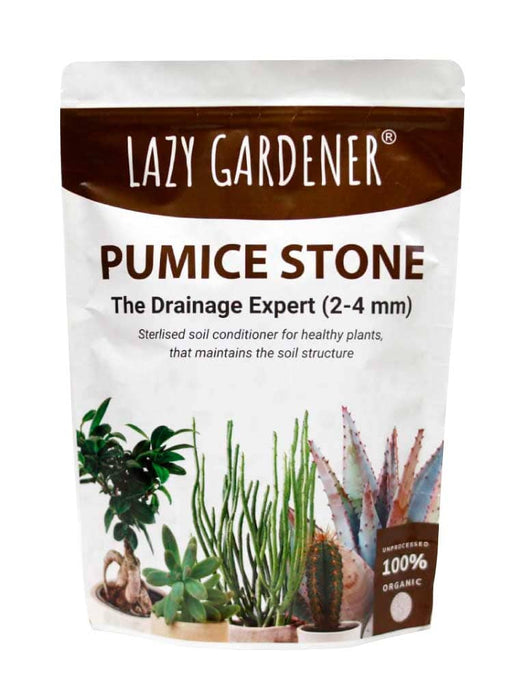 Drainage Expert: Pumice Stone for Plants
Save

0

%
Save

0

%
Original price
Rs. 450.00
-
Original price
Rs. 1,500.00
Original price
Rs. 450.00
Rs. 450.00
-
Rs. 1,500.00
Introducing the Drainage Expert we truly need in our lives, the Lazy Gardener Pumice Stone. Pumice is a natural, unprocessed 100% organic product that doesn't decompose or blow away easily. It also continuously maintains the soil structure. It is ideal for all houseplants, seeds, succulents and cacti. It stimulates the growth of good bacteria & worms in the soil. It provides excellent drainage and increases water retention for plants.
Unlike perlite, pumice can't easily be broken by hand.

It doesn't accumulate on top of the soil over time, as it is not as lightweight as perlite.

It has excellent drainage & moisture holding capacity.

It also absorbs excess moisture preventing root rot.
Note: Keep away from the reach of children below 3 years. Consult a physician if ingested.
How to use?
1. While repotting a plant: Loosen the soil, mix 1/4th of soil mix, stir well, repot & water the plant.
2. While preparing potting mix for a new plant: Add 1/4th of soil & mix it. Also mix 1/2 of pumice when planting succulents or cactus.
Benefits
• Stimulates the growth of good bacteria, worms in the soil.
• Provides excellent drainage.
• Increases water retention for plants.
• Helps with Mulching.
• Loosens density of clay type of soil.