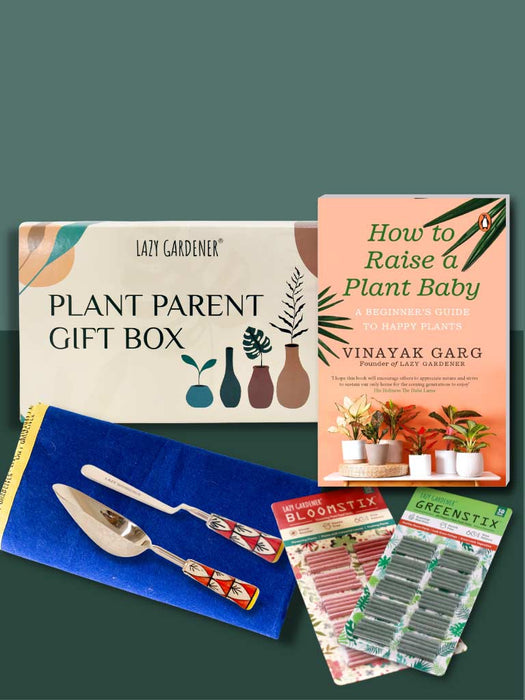 Plant Parent Gift Box - Gardening Gift Set
Sold out
Original price
Rs. 3,000.00
Original price
Rs. 3,000.00
-
Original price
Rs. 3,000.00
Original price
Rs. 3,000.00
Current price
Rs. 1,800.00
Rs. 1,800.00
-
Rs. 1,800.00
Current price
Rs. 1,800.00
OFFERS
Flat 10% OFF Discount
Use Code:
Copied
WELCOME10
Claim 10% OFF on your First Order
FREE Shipping
Use Code:
Copied
No Code Required
Order above Rs.849 to avail Free Shipping
Don't all parents cherish and relax while planting? What's a better gift than a planting kit that makes your parents' planting effortless and fun? Here is Lazy gardener's perfect plant parent gift box, a versatile present for all occasions! 

It's time to shower your parents with some green love! Let them keep all their worries aside and let them spend their quality time with nature. The Plant Prent Gift Box is a refreshing and wholesome gift for your parents as it includes Khurpi and Scoop made of 100% stainless steel, along with a beautiful gardening mat, and the Lazy Gardener 2022 desk calendar that will help your parents keep a track of their planting activities.
Unlike regular machine prints, the scoop and Khurpi are decorated with handcrafted prints designed by exceptionally talented local artisans in India. This adds an exceptional quality to the tools and leaves the gardener with an amazing experience of sowing, reaping, and nurturing the green buddies.
Still worried about the gardening fuss your parents may face? We've got you covered with the multipurpose gardening mat! This is no less than a magical mat that eases the various gardening tasks such as replacing or reporting the plants, mixing soils and manure, watering the plants, and cleaning them. 
What's in the Kit?
Green Stix- Lazy Gardener's green stix are 100% natural composed of mineral-based fertilizers. 
One pack contains 50 green sticks.

The solid stick structure prevents the hassles of liquid fertilizers and messy traditional manures.

To feed your plants with apt nourishment green stix come with a perfect blend of macronutrients and micronutrients for their healthy and happy life. 
Gardening Mat- A multipurpose gardening essential for a hassle-free gardening routine. 
The gardening mat is available in two convenient sizes, i.e., 23x23 inches & 32x32 inches.

It comes in two beautiful colors, i.e., royal blue and bright green, respectively.

The fabric of the mat is entirely waterproof, which protects your gardening floor from getting wet with water leakage and also prevents it from unwanted soiling. 

The versatile mat is easy to carry, clean, fold, and store even after multiple times of use. 

This reusable mat is also easy to wash and can sustain for a long duration.
Khurpi- A Khurpi or trowel is a must-have gardening tool included in the Plant Parent Gift Box by Lazy Gardener.
It is made of durable 100% stainless steel.

This Khurpi can take good care of small and medium-sized plant pots.

Its height is 8 inches which include 3.5 inches of the steel portion.  

The ceramic handles have a beautiful pastel red color in all our combos that contain our Khurpi tool.
Soil scoop- A good soil scoop has a mounted head and a strong handle. Lazy Gardener promises this paramount quality of a soil scoop. 
It has a perfect shape and depth, making this tool the best choice for digging holes and transferring soil without spilling it. 

This soil scoop is made of 100% stainless steel.

The ceramic handles have a beautiful pastel red color in all our combos that contain our Khurpi tool.
Book: How to Raise a Plant Baby